Thórsmörk and Eyjafjallajökull
Duration:

9-10 hours
Season:

All year
Price: $ 304 /

ISK 39,900

per adult $ 148 /

ISK 19,500

per child
The Thorsmork natural reserve is a large valley named after the Viking divinity, Thor. Located in South-East of Reykjavik, it is surrounded by 3 glaciers: the Myrdalsjokull, the Eyjafjallajokull, and the Tindfjallajökull, and it is offering a large diversity of landscapes of a breath-taking beauty. The wooded valleys, craggy peaks, profound gorges and the untamed creeks and rivers, make Thorsmork one of the most visited trekking areas in the summer time. It is not just by chance that many Icelanders come here to enjoy the benefits of this peaceful place. In September, the valley gets arrayed into the most beautiful autumnal colors and becomes many-hued.
In winter, this place gets even more magic, being accessible only in Super-Jeeps.
Experience many of Iceland's natural gems in a magnificent day tour – Do it in style and comfort in our Super Jeeps.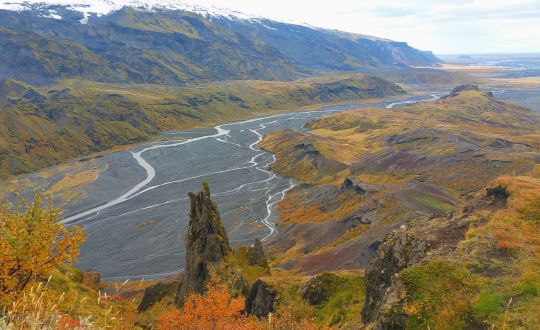 Tour Itinerary
The Thorsmork natural reserve is located about 150 km East from Reykjavik. To arrive there, we take the famous circular route 1 up to the Seljalandsfoss waterfall. Then, we travel through the next 30 km,towards the center of the Thorsmork valley, bordered by the well-known Eyjafjallajökull volcano.
During this route, we will need to cross several streams through their fords. It is always a real pleasure and excitement to see our jeep getting into the water and coming out again on the other bank, dry and without any hitch. Also, we will make a diversion from our way in order to draw near to the glacier found under the crater of the Eyjafjallajokull volcano.
Eyjafjallajokull
We go as close to the volcano Eyjafjallajokull as you can get
See the dramatic glacier where it crumbles down from the crater on the top
See the blue ice of the glacier
Seljalandsfoss
The waterfall you can walk behind
Thorsmork valley
Green valleys, 'Icelandic forest', steep mountains, surrounded by 3 glaciers
Remarkable and easy to see geology
Great hiking routes of different levels for you to choose from
Fun off-road adventure across 20 glacier rivers and streams
Gígjökull
The tour runs all year round:
Minimum 2 passengers between Jun 1st - Sept. 30th. on Wed, Fri, Sun

Minimum 4 passengers any other day or between Oct. 1st - May 30th.
Daily departure at 8:30 A.M. We pick you up from your hotel in the Reykjavik area free of charge.
Do you prefer a private car? Contact us!
Superjeep (1-6 persons) ISK 175,000
Monster Truck (1-10 persons) ISK 279,000
We recommend to take with you the following:
Warm clothes such as fleece or wool clothing
Waterproof clothing and windbreaker clothes (on a pair of pants and jacket)
Waterproof hiking shoes
Sunglasses
A camera
For your safety, we have the reserved rights to modify the tours depending on the weather conditions, the route and the snow.
Our driver-guides have extensive knowledge about Iceland and will do their best to willingly adapt to your particular interest whether in nature, geology, current news-or 4x4 facts. We call it "conversational guidance".
You travel comfortably for a day in a 4x4 super jeep with a limited number of persons (2-6 persons). You can stop whenever you want to take photos and to discuss with your driver guide, who will share with you his insight into a large variety of subjects related to Iceland, such as: the customs, the nature, the geology, the history, the current events- or even facts about the 4x4 vehicles.
Services included
Trips in a Super Jeep with our English-speaking driver and guide (capacity of 2-6 persons)
Services not included
Flights to and from Iceland
Meals and drinks at the restaurant (if not differently mentioned)
Personal travelling insurance
Ready to live your dream?
The encounter of a lifetime awaits. For nature-lovers who don't follow the beaten path, this is the ideal way to explore the marvels of Iceland. We can't wait to help you discover all that Iceland has to offer. Start planning your adventure today.
Book now this private tour
"Iceland is unlike any other place in the world. It's a land with a diverse and thrilling landscape that truly reveals the force and beauty of nature."