Hekla and Landmannalaugar
Duration:

9-10 hours
Season:

All year
Price: $ 350 /

ISK 45,900

per adult $ 175 /

ISK 22,950

per child (0-11)
It would be a pity to come to Iceland and not to discover the magnificent region of Landmannalaugar and the Hekla volcano. Far away from everything, it is home of the country's most colorful volcanic landscapes in a veritable chaos of rocks. This is a place of a stunning beauty, which represents the aesthetes' delightfulness.
Join us on an great geological exploration where the hot and cold meet in a great array of colors and beauty in one magnificent day tour to Landmannalaugar and Hekla volcano. Enjoy a soak in the natural geothermal pool, hike in the lava field and explore the hot springs and crater lakes.
Experience many of Iceland's natural gems in a magnificent day tour – Do it in style and comfort in our Super Jeeps.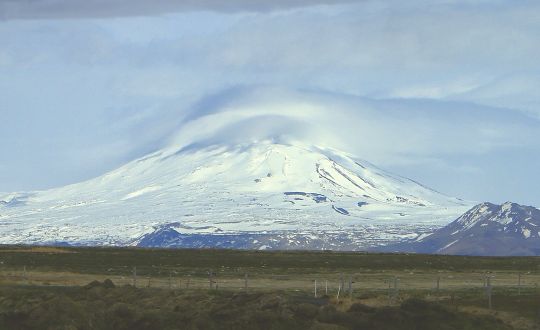 Tour itinerary
After leaving Reykjavik, we go East, along the foothills of the famous Hekla volcano, whose last eruption dates in 2000, to reach a mountain trail in the Domadalur valley. The landscape stands as a tacit witness of the intense volcanic activity that has been going on here for centuries. Taking up a route that leads us to more than 1000 metres height, we discover an awe-inspiring panorama over the Torfajokull glacier.
Hekla volcano
Landmannalaugar
Geothermal pool
Dip in natural hotspring
Amazing colours and landscape
Lava fields
Crater lakes
Cobalt Blue Lake at Ljótipollur
Frostastaða
Hjálparfoss waterfall
The tour runs all year round.
Minimum 2 passengers on Wednesday, Friday, Sunday from

Jun 1st - Sept 30th

Minimum 4 passengers any other day or between Oct

1th - May 31st.
Daily departure at 8:30 A.M. Free pick-up from your hotel in the capital area.
You would like a private tour? Contact us
Superjeep (1-6 persons) ISK 185,000
Monster Truck (1-10 persons) ISK 329,000
Lunch
The easiest idea would be to take a picnic with you. In summer time, there are many opportunities on our route to supply yourselves with food (restaurants, boutiques). In winter time, this is more difficult but still possible. As you leave Reykjavík, talk to the guide who will find a solution regarding this matter.
It is recommended to bring the following clothing and equipment:
Warm clothes such as fleece or wool clothing
Waterproof clothing and windbreaker clothes (on a pair of pants and jacket)
Waterproof hiking shoes
Sunglasses
A camera
A bathing suit and a towel
For your safety, we reserve the right to change the tours on account of the weather conditions, the route or the snow.
Our driver-guides have extensive knowledge about Iceland and will do their best to willingly adapt to your particular interest whether in nature, geology, current news-or 4x4 facts. We call it "conversational guidance".
You travel comfortably for a day in a 4x4 super jeep with a limited number of persons (2-6 persons). You can stop whenever you want to take photos and to discuss with your driver guide, who will share with you his insight into a large variety of subjects related to Iceland, such as: the customs, the nature, the geology, the history, the current events- or even facts about the 4x4 vehicles.
Services included
Trips in a Super Jeep with our English-speaking driver and guide (capacity of 2-6 persons)
Services not included
Flights to and from Iceland
Meals and drinks at the restaurant (if not differently mentioned)
Personal travelling insurance
Ready to live your dream?
The encounter of a lifetime awaits. For nature-lovers who don't follow the beaten path, this is the ideal way to explore the marvels of Iceland. We can't wait to help you discover all that Iceland has to offer. Start planning your adventure today.
Book now this private tour
"Iceland is unlike any other place in the world. It's a land with a diverse and thrilling landscape that truly reveals the force and beauty of nature."