Snaefellsnes Peninsula
Duration:

9-10 hours
Season:

All year
Discover the wild peninsula of Snaefellsnes, located North-West of Reykjavik, it represents a condensed version of the Iceland's beauty: volcanoes, glaciers, fjords, mountains, lava caves, cliffs and the ocean. Everything is combined to make this place one of the most beautiful areas in Iceland....
Experience many of Iceland's natural gems in a magnificent day tour – Do it in style and comfort in our Super Jeeps.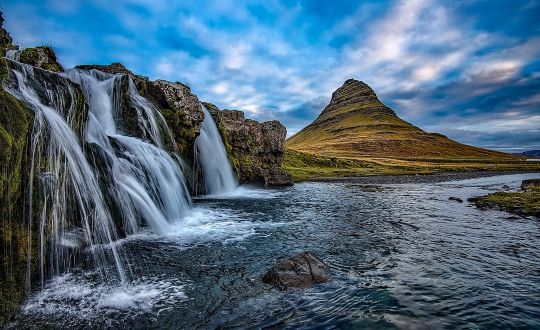 Tour itinerary
Majestically dominating the ocean and being located at the Western extremity of the Snaefellsnes peninsula, the Snaefellsjokull glacier is considered by many to be the most beautiful Icelandic glacier. Moreover, Jules Verne had greatly contributed to its reputation by locating here the begining of his famous novel "Journey to the center of the Earth", in 1864. We benefit from its beauty by traversing the glacier, making numerous stops and a few short walks on its foothills. Along the coast, between the small port of Arnarstapi and Hellnar, we walk on the lava cliffs that overlook the ocean.
The tour runs all year round:
Minimum 2 passengers between Apr 1st - Oct 30th on Sun
Minimum 4 passengers any other day or between Nov 1st - March 30th
Daily departure at 8:00 A.M. Free pick-up from your hotel in Reykjavik.
Would you like a private tour? Contact us!
Superjeep (1-6 persons) ISK 175,000,
Monster Truck (1-10 persons) ISK 269,000
Lunch and break
There are many opportunities on our route to supply yourselves with food (restaurants, boutiques). As you leave Reykjavík, talk to the guide who will find a solution regarding this matter.
We recommend to take with you the following:
Warm clothing of polar type or made of wool
Waterproof and windbreaking clothing (the trousers and jacket)
Waterproof footwear for walking
Sunglasses
A camera
Our driver-guides have extensive knowledge about Iceland and will do their best to willingly adapt to your particular interest whether in nature, geology, current news-or 4x4 facts. We call it "conversational guidance".
You travel comfortably for a day in a Luxury SUV with a limited number of persons (2-4 persons). You can stop whenever you want to take photos and to discuss with your driver guide, who will share with you his insight into a large variety of subjects related to Iceland, such as: the customs, the nature, the geology, the history, the current events.
Services included
Trips in a luxury SUV with our English-speaking driver and guide (capacity of 2-4 persons)
Services not included
Flights to and from Iceland
Meals and drinks at the restaurant (if not differently mentioned)
Personal travelling insurance
Entrance at the museum
Ready to live your dream?
The encounter of a lifetime awaits. For nature-lovers who don't follow the beaten path, this is the ideal way to explore the marvels of Iceland. We can't wait to help you discover all that Iceland has to offer. Start planning your adventure today.
Book now this private tour
"Iceland is unlike any other place in the world. It's a land with a diverse and thrilling landscape that truly reveals the force and beauty of nature."